Rally Sardinia 2018 – Special stages Coiluna Loelle
The special stages of Monte Lerno – Monti Alà and Coiluna-Loelle with the spectacular Micky's Jump will be held only a few kilometers far from our residence.
The Wrc Rally Italy Sardinia 2018 turns 15 years old and will take place on our beautiful island from June 7th to June 10th.
Alghero is confirmed again as a base for the Service Park and the Rally HQ and aims a vast TV coverages. 5 special stages will be transmitted on TV. WRC will have 20 special stages for over 310 kilometers on a total of 1400 kilometers of length. The Rally Italy Sardinia 2018 will begin on June 4th with the opening of the sports secretary, while the reconnaissance of the route will take place on June 5th and June 6th. The first competition will be the shakedown and the SSS1 Ittiri Arena Show on June 7th. On June 8th the special stages will be held near Olmedo, Sorso, Castelsardo, Tula. On June 9th the race continues with the most spectacular special stages in the world: the routes of Monte Lerno – Monti Alà-Coiluna-Loelle with the famous Micky's Jump. The rally will end in Alghero on June 10th with the last special stages and the price giving ceremony.
Special Stages Monte Lerno-Monti Alà-Coiluna-Loelle
The most spectacular and exciting stage of the Rally Italy Sardinia is the stage near Ala dei Sardi, Budduso e Pattata. The route in the middle of the Mediterranean maquis is surrounded by granitic rocks, the race is going uphill and downhill, there are tight curves and the famous Micky's Jump is the highlight of the rally.
How to reach the special stages:
Our residence is located in Porto Taverna, between Porto San Paolo and San Teodoro. Our apartments are 15 – 1500 meters far from the amazing beach which is famous for the beautiful view over the island of Tavlora.Rally spectators choose our Residence because it is not far away from the special stages of Monte Lerno-Monti Alà-Coiluna-Loelle. Here is the map with the itinerary to reach the destination easily by car: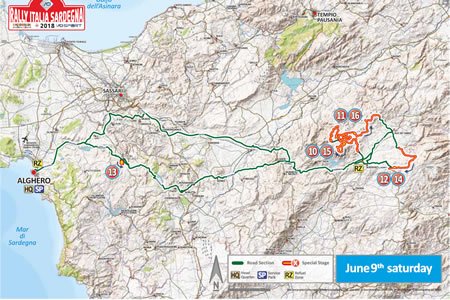 Offer:
During the Rally Sardinia we offer a reduction of 10 % for a minimum stay of 7 nights on all apartment types and hotel formulas!
---